Managed Internet Security
Understanding Internet security can be complicated. Ensuring your network is secure from malicious threats shouldn't be. That's what NetGain Networks Managed Internet Security is all about. Our Managed Internet Security Service is a complete managed network security solution and removes the worry and complexity associated with choosing between various stand-alone security solutions by integrating all the services required for total protection into a convenient, affordable package.
Overview
NetGain Networks Managed Internet Security keeps your network safe from viruses, spyware, worms, Trojans and other types of malicious attacks. Even before new threats are identified, the Managed Security Services suite is automatically updated with signatures that stop attacks before they can enter your network, ensuring you have around-the-clock protection. The Managed Internet Security solution also has the ability to manage internal access to inappropriate, unproductive and potentially illegal Web content with Internet content filtering. Finally, the service is compiled with full maintenance which includes around-the-clock monitoring, 24×7 support, and On-Demand reporting.
Managed Internet Security Services includes the following:
Gateway Anti-Virus, Anti-Spyware and Intrusion Prevention Service
Internet Content Filtering Service
Full maintenance and 24×7 Monitoring & Support
On-Demand Reporting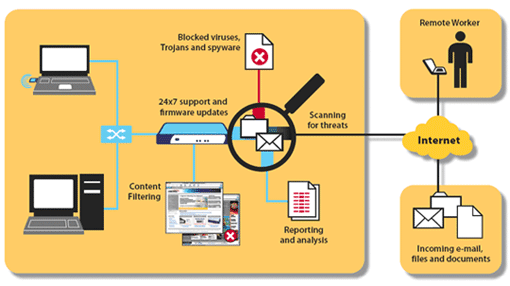 Features and Benefits

 
A complete network security solution that integrates everything you need for comprehensive protection from threats such as viruses, spyware, worms, Trojans, adware, keyloggers, malicious mobile code (MMC) and other dangerous applications.
Gateway Anti-Virus, Anti-Spyware and Intrusion Prevention
Real-time gateway anti-virus engine that scans for viruses, worms, Trojans and other Internet threats in real-time.
Dynamic spyware protection blocks the installation of malicious spyware and disrupts existing spyware communications.
Powerful intrusion prevention protects against an array of network-based threats such as worms, Trojans,peer-to-peer and instant messenger applications and other malicious code.
Dynamically updated signature database for continuous threat protection
Full Maintenance
Around the clock monitoring services keeps our eyes on your network ensuring your business is protected.
24×7 gives your business the peace of mind that your business will have access to the finest technical support and timely on-site maintenance if necessary.
Our proactive maintenance schedule ensures that crucial firmware updates and upgrades will be done.
Advance Exchange hardware replacement in the event of failure.
Internet Content filtering
Reduces liability concerns and increases employee productivity by providing the ability to manage access to objectionable or even illegal online content.
On-Demand reporting
The ability to request an On-Demand report provides the ability to gain instant insight into the health of your network.
Weekly Comprehensive Status reporting is provided in a set of graphical reports that provide visibility into suspicious activity and employee productivity.
Compliance reporting gives administrators the capability to generate and view reports that fulfill compliance requirements.