Net Care – Focus on your Business, not your Technology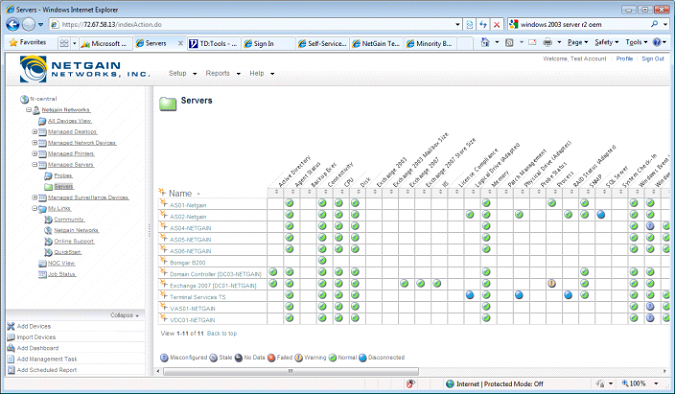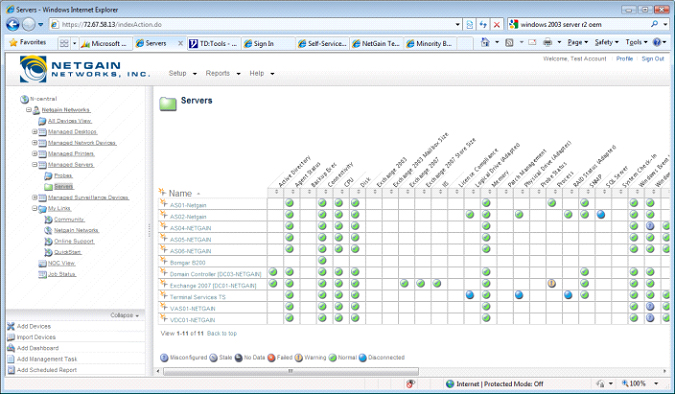 At Netgain Networks our goal is simple – Solve your most challenging technology problems and enable your success. We accomplish this by understanding your business needs, developing a technology plan, and becoming your technology partner.
Technology is the most expensive budget item after human resources, yet it is the least understood. Allow us to use our expertise to help you better understand Technology. Together we can help reduce your maintenance costs and increase the service quality and reliability of your Information Technology infrastructure.
One of the major challenges in maintaining a computer network is trying to predict what will fail and when. With our proactive managed services solution, we can prevent many network failures from ever happening. By combining regular preventative maintenance and comprehensive real-time monitoring of your critical servers, desktops, and network devices, we ensure the reliability and stability of your IT assets.
This solution is so effective our clients see almost immediate results. A regularly maintained network means fewer failures, yielding higher productivity and savings on support costs. At the same time, their exposure to security risks is dramatically lessened, and frustration from unstable IT resources almost vanishes. Thus, allowing our customers to focus on their business by taking the worry out of owning a computer network.
Do these issues plague your department?
Unreliable or Slow service? Is your current service provider hard to reach or slow to react to your IT problems, costing you more in lost time and productivity?
Downtime impact? Frustrated with IT outages that interrupt your ability to conduct business efficiently? Have you noticed that these problems actually cost you more than just the repair?
Security fear? Worried those vulnerable servers, laptops or PCs may be putting your organization at potentially devastating risk?
Non-IT Employees fixing computer issues? Is your staff being distracted from their core focus by IT issues that they shouldn't have to deal with?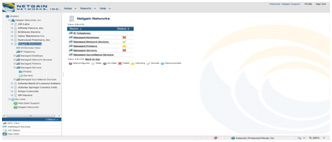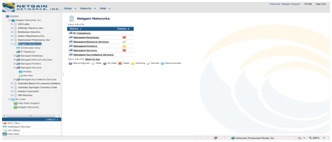 Program Advantages:
We invest for you: By investing in solutions (like remote monitoring and remote access tools) we ensure that we respond and act very quickly to your support needs.
Reduced network downtime: Through monitoring and preventative maintenance activities designed to keep your network operating efficiently, we reduce the number of emergency incidents you encounter keeping your costs and frustrations at a minimum.
A secure network: Network integrity is our ongoing priority. By monitoring your firewall, antivirus and other security services, we ensure your security investment is protecting you.
A true IT partnership: Our goal is to be your outsourced IT Department. Be confident that a team of experienced, highly skilled IT professionals will manage and maintain your network.
Program Features:
24×7 Availability, Performance and Predictive failure monitoring ensures your key business resources such as servers, applications, and many other devices are functioning optimally and efficiently.
Preventative Maintenance keeps your servers, PCs and other vital network equipment functioning optimally. Improving reliability and security.
Backup System Monitoring ensures that your system backups occur as scheduled and that your important business data is protected.
Antivirus Monitoring and Updates on Servers and Workstations makes certain your antivirus program is functioning properly and that the latest security updates are being received and installed.
PC Health and Performance Monitoringverifies your organization's computers are running in a stable and secure fashion. We monitoring for health, error conditions, and overall performance of PCs.
On Demand Reporting to assist with troubleshooting, to help justify future expenditures, and to give you detailed network information at your finger tips.
"I have been using Netgain Networks for over 3 years for all of my business IT needs. In my experience, I have never dealt with a company more attentive to customer needs and service than Netgain. Solutions and services are literally offered immediately upon request. I would recommend to anyone, stop searching for IT solutions and call Netgain Networks." 

Bryan Addis
Soboba Springs Country Club